Publications


Mobile Register Article October 7, 2007 online link
view .pdf file here
---
2007 - Collection of 8 photos on display in the reception area of the newly renovated Battlehouse and RSA Tower in Mobile, Alabama, the tallest building in Alabama. These photos will be on display for one year. Two of these will be on permanent display.

---
Florida Outdoors Magazine 2005
Photos of the Month
(more pics at right)
click on pics to enlarge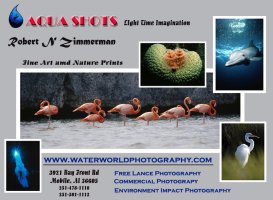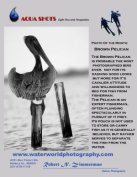 ---
Bay Front - The Award Winning Nature & Underwater Photography of Robert N. Zimmerman will be on display in the offices of Alabama Coastal Foundation. Click on poster at right for more information.
Bay Front exhibit at the Museum of Mobile
June 20 - September 30, 2005
(see flyer at right)
July-August, 2005,
Alert Diver Magazine
Gallery Page (pictured at right)
2005 DAN poster photo pictured at right
2005 Alabama Outdoor Adventure Magazine
Montly Photo
2004-2005
2-month exhibit at the West Regional Library,
Mobile, Alabama
Diver Alert Network, 2005
Ad Flyer, Poster and Booklet
Florida Outdoor Magazine Cover
November, 2004
Front Cover pictured at right
Photo with Gentle Giant article
2004
Article pictured at right
Outdoor Alabama, 2003
Back Cover pictured at right
The Undersea Journal, First Quarter 2003
Cover pictured at right
P.A.D.I. Project Aware Photo Contest 2002
PADI Aware
Grand Prize - Manatee photo pictured at right
This photo will also be featured as the next Project AWARE version of the PADI certification card
First Place in the Diver Down category
The University of Mobile's Contemporary Art Contest
"Art With A Southern Drawl 2002" Accepted photos
2002 15th Annual Ford Seahorse Underwater Photo Contest
www.fordseahorses.org
1st Honorable Mention - Abstract
Exhibition August-September 2002
North Carolina Museum of Nature Sciences
www.naturalsciences.org
May/June
Alert Diver Magazine Cover

Beneath The Sea, Inc-
www.beneaththesea.org
2002- 2nd Place Honors in General & Marine Life categories
NANPA North American Nature Photography Association
Future photographs on website
November 2, 2001
Images for years 2003 Manatees Calendars
Browntrout Publishers
November/ December
Alert Diver Magazine
Cover and five feature Photographs
September 2001
Camera South Photography Club
2001 Annual Competition
First Place - Nature
P.A.D.I. Project Aware Contest 2001
PADI Aware
1st Place - Above the Surface
P.A.D.I. Professional Association Diver Instructor
July 13, 2001
Dog Days Of Summer Show
2nd Place
Savage Photo Lab & Gallery
2001 July-August
Event@mobilechamber - A monthly publication of Mobile
Area Chamber of Commerce.
Feature Photograph
March 2001
14th Annual Ford Seahorse Underwater Photo Contest fordseahorses.org
First Place in Diver Portrait
1st Honorable Mention - Abstract
P.A.D.I. Project Aware Contest 2000
(http://www.padi/aware/photo-2001)
2nd Place - Above the Surface
P.A.D.I. Professional Association Diver Instructor
Art With A Southern Drawl 2001
Merit Award
Contemporary Art Contest At University of Mobile
April 2000
Mobile Bay Monthly Magazine Cover